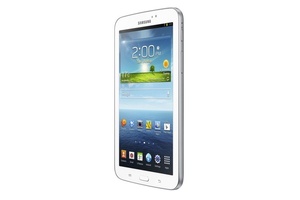 A few weeks after announcing the tablets,
Samsung
has officially priced their Galaxy Tab 3 10.1, 8.0 and 7.0 models.
The tablets will cost $399, $299 and $199, respectively, making them extremely competitively priced.
Each of the devices will be available at retailers such as Best Buy, Fry's and Amazon starting on July 7th, with pre-orders beginning in the next couple of hours.
The 8-inch version runs on a 1.5 GHz Exynos dual-core processor, has a
WXGA
TFT 1280 x 800 (189 PPI) display, 1.5GB of
RAM
, 1.3/5MP cameras, a 4,450 mAh battery, and either 16GB or 32GB of internal storage depending on your needs.
Notably, the 10.1-inch model will run on a 1.6GHz
Intel
Haswell dual-core processor, a major score for the company as it tries to finally make a dent in the mobile markets. The device has a 1280 x 800 (149 PPI) WXGA TFT display, 1GB of RAM, 16GB or 32GB of internal storage, and a large 6,800 mAh battery. Strangely, the cameras are 1.3/3MP, a letdown for those that were hoping were decent photo taking.
The 7-inch has a 1024x600 display,
Android
4.1, 8GB internal storage and a lower-end dual-core processor.
A few pictures of the devices: