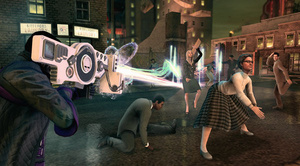 The Australian Classification Board has justified its refusal to classify Saints Row IV for the market, singling out the use of 'anal probes' and narcotics.
The alien anal probes used in
Saints Row IV
amounts to
"implied sexual violence,"
in the opinion of the Classification Board. It also takes issue with the use of illicit drugs also referred to as being
"alien"
in nature.
"The game includes a weapon referred to by the applicant as an 'Alien Anal Probe'. The applicant states that this weapon can be 'shoved into enemy's backsides'. When using this weapon, the player approaches a (clothed) victim from behind and thrusts the weapon between the victim's legs and then lifts them off the ground before pulling a trigger which launches the victim into the air,"
a statement from the Classification Board reads,
according to GameSpot
.
"A weapon designed to penetrate the anus of enemy characters and civilians constitutes a visual depiction of implied sexual violence that is interactive and not justified by context."
The Board also pointed out an optional mission in the game where the player obtained and smokes
"alien narcotics,"
giving the character superpowers.
"In the board's opinion, there is insufficient delineation between the 'alien narcotic' available in the game and real-world proscribed drugs. The board notes that the label 'narcotics' is commonly assigned to describe a class of real-world drugs that include such proscribed substances as cocaine and heroin...this game therefore contains drug use related to incentives and rewards, and should be refused classification."
Volition is working to alter the game in order to bring it to the Australian market.