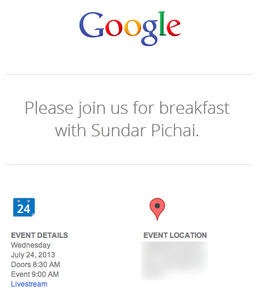 Google has sent out invitations to "a breakfast" with
Android
and ChromeOS boss Sundar Pichai.
While it is unclear what will be discussed, the assumption is Pichai will introduce more about the upcoming Android
4.3
Jelly Bean
update and the next version of ChromeOS.
The event
is on July 24th at 9AM Pacific.
From recent leaks, we know some of the 4.3 updates. A welcome update (as all Nexus users can attest too) is the update to the dialer. The phone will now automatically suggest your contacts as you dial numbers, like it used to before 4.2. You currently have to type out the full number or head to contacts to search. It is important to note that the new dialer autofill will not be turned on by default.
Additionally, the camera application will come with new minor updates. Another cool update is a setting that you can allow your Wi-Fi to be turned on to get a lock on your location before it is automatically turned off again. Apps will not send you push notifications asking you to try to hop on a Wi-Fi network anymore if you have that setting enabled. In a move that was likely spurred by the launch of Google Glass, 4.3 devices can now utilize Bluetooth Low Energy to save battery when linked to Glass or smartwatches (for example).