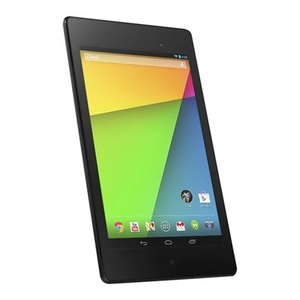 While the Google Play Store sold out of stock early, Amazon, Wal-Mart and Best Buy have all put the device up for sale, as well, four days early.
Available both online and in-store (for the companies with brick-and-mortar presence), the device
was supposed to launch on July 30th
.
Other retail partners like B&H, RadioShack, OfficeMax, and Staples will make the device available on its scheduled date.
The new tablet will keep its predecessor's 7-inch display, run on the latest
Android
4.3
Jelly Bean
, and include a
1080p
resolution
, a large upgrade.
Under the hood is a 1.5GHz Qualcomm Snapdragon S4 Pro, 2GB
RAM
, and Adreno 320
GPU
,
NFC
, dual cameras 1.2/5MP, dual-band
802.11
a/b/g/n Wi-Fi and wireless charging support if you have a Qi-compatible charger. Additionally, the Nexus 7 supports
OpenGL
ES: 3.0, which supports higher-quality reflections, lens flares and other shading during gameplay.
Google thinned down the device somewhat, by 50 grams and 2mm, and the ugly bezel from the original is slightly reduced, as well. The rubber, gripped back from the original is gone, as well, replaced by a softer-touch finish.
The tablet starts at $229 for 16GB/Wi-Fi-only, moving up to $349 for a 32GB/LTE model.