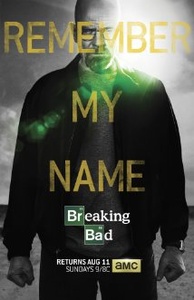 Netflix has announced that the final season of the hit show 'Breaking Bad' will air in the UK and Ireland immediately following the episode's original air date in the U.S.
Broadcaster AMC made a similar deal with Netflix UK for new episodes of "The Killing," making fans of the show overseas very happy that they will not have to wait 6 months or longer to legally see the episodes.
"We are thrilled to be bringing the highly-anticipated Final Season of Breaking Bad to Netflix members in the UK and Ireland on a first-run basis,"
said
Chief Content Officer Ted Sarandos.
"Breaking Bad is a once in a generation calibre of show and continues to be a huge success on Netflix."
Creator of the show, Vince Gilligan said,
"Netflix has been instrumental in making Breaking Bad the success that it is – particularly in the UK and Ireland, where it has built an audience and become a huge phenomenon. I am delighted that fans there will be able to enjoy the end of Breaking Bad on Netflix so soon after it airs in the US."

Breaking Bad follows the story of Walter White, a chemistry teacher who becomes a crystal meth kingpin using his scientific background to help pay for his cancer treatments. The show's final season will start airing on August 11th.