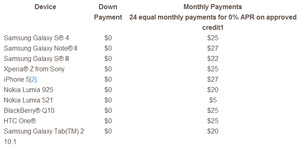 T-Mobile USA has announced this week that for a limited time you can now purchase high-end smartphones for $0 down, with just a small increase in monthly payments.
For example, before the new move, the
iPhone 5
cost $145.99 down with payments of $21 per month for two years. Now, the device is $0 down with 24 months of $27 payments.
"The number of reasons not to switch to T-Mobile this summer is ZERO,"
added
John Legere, president and CEO.
"This is a fantastic offer and we're making it easier than ever for customers to get the latest amazing devices. Adding Zero Down in addition to JUMP!, and Simple Choice with no contract is all about making wireless work for consumers and shaking up this industry."
Zero down started yesterday, and will run for a limited period that the company has not specified. The JUMP program Legere mentioned costs $10 per month for insurance and allows you to upgrade your device for free twice per year, starting after six months.
To take advantage of both, you must be part of T-Mobile's no-contract Simple Choice plan, which costs $70 per month for unlimited text, talk and 4G data with no caps or throttling.