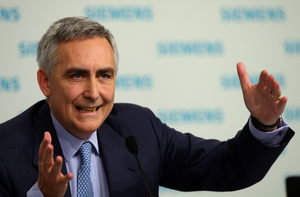 Siemens
CEO Peter Loescher will leave the company four years before his contract is over,
following another
poor pre-earnings report.
The company's board will select an acting President and CEO on July 31st.

One of the most valuable companies in all of Germany, the engineering group has had its share of struggles in recent years. Loescher started in 2007, a hire from outside of the company, to help Siemens out of a massive bribery scandal that had rocked their reputation in the industry and around the globe, and hurt their balance sheet.

Since starting, Loescher has quickly lost credibility, as well, as major projects have been hit by delay after delay and revenue and profits have fallen.

After setting a plan to increase revenue by 30 percent over three years, the CEO had to backtrack and instead set a new plan to cut down on expenses and increase profit margins; meaning over 10,000 jobs could be at stake. Earlier this week, the exec scrapped that plan, as well, showing how lost he appears to be when judging market demand for the company's products.