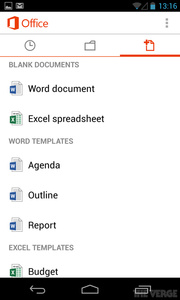 Microsoft
has expanded its Office mobile suite to
Android
smartphones, but not tablets.
As long as you have Android 4.0 or higher and an Office 365 subscription, you will now have basic editing and reading, The company released Office for iPhone recently, as well, and the Android app is almost identical in looks and functionality.
Logging in the first time will require the 365 subscription to view and edit documents and there will be no free version released.
Office for Android includes
very basic editing for Word, Excel and Powerpoint which should allow for correction, formatting, and comments.
All documents are stored in the SkyDrive cloud and Gmail and other email options for sharing are integrated.
The app is available in the U.S. Google Play Store but will "gradually" be expanding to 33 other languages and 117 markets.