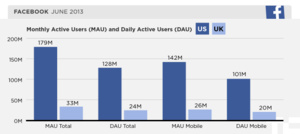 Facebook has begun releasing monthly data showing global web and mobile monthly and daily user counts.
In the U.S., there are 179 million active monthly users, with 142 million actively using mobile devices to browse the social network.
On a daily basis, the total active userbase is 128 million with 101 million using mobile.
Moving to a global basis, Facebook's mobile daily active userbase jumped 10 percent to 469 million since last quarter.
"We are doing this because we believe brands and businesses should think differently about how people engage with Facebook, especially on mobile. A lot of people focus on monthly active users or even registered users to demonstrate their size and scale. We think this is becoming on old way of looking at the media world. In this world, understanding who comes back at least once a month is only part of the picture. Instead, businesses should focus on people who come back online every single day,"
said the company in a
statement
.