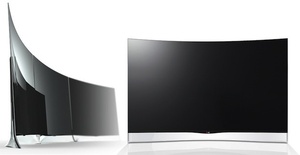 After making the TV available in the U.S. in June,
LG
has rolled out its 55-inch OLED TV for Europe.
Starting in Germany, the high-end device will sell for 8,999 euros, with the company unveiling more countries in the Q4.
OLED screens consist of thousands of self-emitting diodes, providing brighter and better quality pictures while consuming less powered than a comparably sized LCD screen with a backlight. Production is more complex than LCD panels however, meaning that for the moment they must remain toys for high-end consumers.
"LG is fully committed to delivering the most advanced OLED TVs to European customers,"
said
In-kyu Lee, vice president and head of the TV division at LG Electronics' Home Entertainment Company.
"With next generation display technology and an ultra-thin curved design, our CURVED OLED TV represents the beginning of a new era in home entertainment."