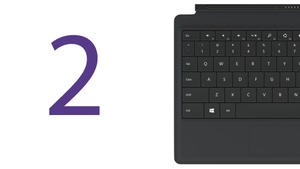 Multiple
sources
have confirmed that
Microsoft
will unveil a 'Power Cover' for its Surface Pro and upcoming Surface Pro 2 tablets.
The cover will include a built-in battery to 'significantly' increase battery life. It will also work just like the original Type Cover in that it will make your tablet a notebook by all purposes, with full typing capabilities.

Sources say the Power Cover will be compatible with the current-generation Pro, the upcoming Pro 2 and Surface RT 2, but not with the original RT.

The Power Cover will charge the Surface when in use, just like any external power supply. If connected, the Cover will charge will the Surface is charging, as well.

At 1.1 pounds, it is double the weight of the current-gen Type Cover and it is also thicker at .38 inches compared to .21 inches for the current model.

The Power Cover will ship this year, after the Surface RT 2 and Surface Pro 2 are released.