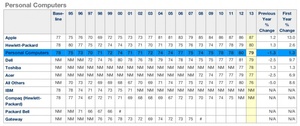 The American Customer Satisfaction Index (ACSI) has released its annual customer satisfaction ratings for personal computers, with
Apple
leading the way for the tenth year running.
ACSI includes traditional computers and tablets in their rating, and Apple finished the year with a satisfaction rating of 87, well above the competition.
The ratings
take into account customer expectations, perceptions of quality, and perceptions of value.
Apple must be happy with the result as just last month, ASCI ranked the Galaxy S3 above the
iPhone 5
for top smartphone satisfaction.
For the PC ratings, Apple topped the list at 87, followed by
HP
at 80,
Dell
at 79, and
Toshiba
at 78.