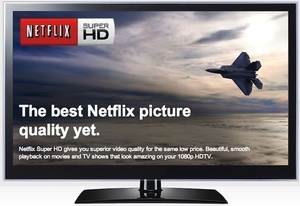 Netflix has announced that all subscribers will now have access to the highest quality
streaming
quality, 'Super
HD
.'
The SHD stream had previously been ISP-dependent.
As Netflix says,
"this means that the great TV shows and movies on Netflix will look even better on HD screens with a higher bit rate stream, Super HD, that applies less compression to the 1080p image."
The streaming giant
continued
,
"Netflix uses 'adaptive streaming' to dynamically adjust the video quality based on the available bandwidth. This means that the ability to receive Super HD depends on broadband quality and performance. Netflix members who subscribe to an ISP with a direct Netflix connection will get the best experience."
It is important to note that only a smaller percentage of titles even have the option of the higher quality streams.