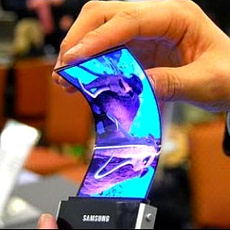 Multiple Korean
sources
are reporting that
Samsung
will be first to market with a flexible, curved display smartphone.
The tech giant could launch the phone as early as this week, with the tentative name "Galaxy Round."
By using a plastic panel, the display will be more durable and cheaper to produce. The device could also feature the thinnest bezel of any smartphone, due to its flexibility.
It is unclear how much the Round will cost, but it is expected to specs similar to the recently unveiled
Galaxy Note
3.
LG
today announced they would be building a 6-inch curved display for launch in November. The race is on.