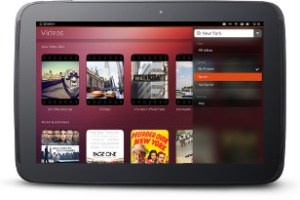 Ubuntu 13.10 aka Saucy Salamander, is now available and with it comes the first truly mobile version of the
Linux
distribution.
While the distro does support smartphones and tablets, there are no Ubuntu mobile devices available just yet, with parent company Canonical stating that early 2014 could be a possibility. There are a few Nexus devices that can run the software currently, however.
As with all new operating systems, there are a few glaring issues right out of the gate. There are practically no native mobile apps, and as of yet Ubuntu Touch cannot be run as a full desktop version using
HDMI
as promised.
Canonical says this is because the mobile-friendly display server, Mir, is not ready for a full desktop version, yet. The company says "outstanding technical difficulties" means the feature will launch with April's 14.04 release.
"The desktop at this stage doesn't fully support the new graphics architecture that is now enabled on the phone OS,"
Richard Collins, Canonical's product manager for mobile, added (via
Om
).
"It's something we are working very rapidly towards."
"At this stage we are looking to have Mir running on [the 14.04] release, probably initially as more of a specific release for [manufacturers] that feel they are in a position to produce hardware that wants that same graphics architecture to run. The full release, in terms of the main codebase that's fully open, will be from 14.04 and beyond."
Get Ubuntu here:
Desktop