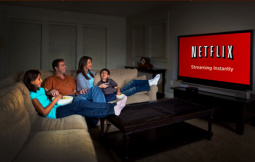 Netflix reported their quarterly earnings yesterday, smashing analyst expectations.
The company saw revenue grow to $1.11 billion and earnings of 52 cents per share. It also managed to hit the high end of its guidance adding 1.3 million domestic subscribers.
As of September 30th, the
streaming
company now has 31.1 million U.S. subscribers, surpassing rival HBO.
Moving internationally, the company added 9.19 million subscribers, also better than expected. The company has invested significantly in international expansion and it appears to be paying off.
Netflix has also been rumored to be on the verge of some more major deals. Marvel is creating five new original series for streaming providers, and Netflix is of course in the running. Additionally, the company has reportedly been in talks to be added as a standalone app or channel for cable company's set-top boxes.