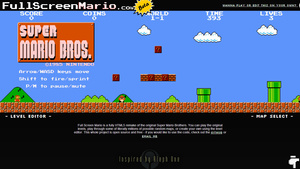 Earlier this month we reported on
Full Screen Mario
, a browser-based HTML5 version of the original Super Mario game.
As expected,
Nintendo
and its copyright lawyers are not fans of the game.
Full Screen Mario is an open-source effort started by college student Josh Goldberg. It recreates Super Mario using just HTML5, letting you play the game in your browser as opposed to on a console. The site has seen lots of traffic since its launch, at some points even being overwhelmed.
Nintendo says the content infringes on their "intellectual property rights," and has asked the student to take the site down. Goldberg admits he never got permission from Nintendo, and also admits he "didn't care" about copyright because he started the project as a programming exercise.