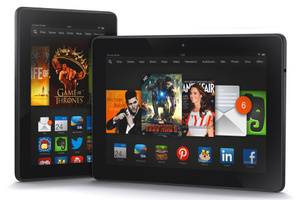 Amazon is cutting the prices of its Kindle tablets and e-readers for just one day to celebrate rule changes from the Federal Aviation Administration.
The FAA announced last week that air passengers
can now use portable electronics during take-off and landing
, meaning you can use your gadgets through flights from departure to arrival - though there are still restrictions on cell calls and Internet access (below 15,000 feet).
Still,
Amazon
sees reason to celebrate by cutting 15 percent off
Kindle Fire HD
,
Kindle Fire HDX 7
and the
$69 Kindle
- but if you want to avail of these offers you must
hurry up because it is only for today
.
In order to receive the discount, customers must enter
ThhnksFAA
at the checkout (yes, that's how the press release spells thanks).
With the discount code, the
$69 Kindle can be bought for $59
today. The
Kindle Fire HD drops to $118
with the promo code
and Kindle Fire HDX 7 drops to $195
.
You have the rest of the day, hope you get your order in on time if you're interested.