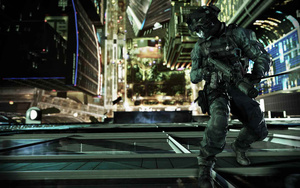 Some reviewers of the PS4 version of Call of Duty: Ghosts have noted framerate issues at certain points in the game.
Infinity Ward revealed last week that the Xbox One version of
Call of Duty: Ghosts
would render at 720p, and be upscaled to 1080p for video output by the console. The developer later explained that the problem arose when trying to keep a consistent 60fps framerate. The perception was that the Xbox One, for whatever reason, was incapable of rendering the game at 1080p when its nemesis - the PS4 - was.
However, numerous reviewers are noting problems with the framerate on the PS4 too.
"The PlayStation 4 version... has noticeable technical issues, sometimes slowing to a crawl, particularly during set-piece moments with multiple effects,"
reports
Joystiq
in a review.
"Frame rate hitches happen throughout the campaign on PlayStation 4 and, in a series known for its Hollywood-inspired bombast, it detracted from the experience."
Now Gamer
also reported issues with the multiplayer mode.
"It's not something we've seen in any Call of Duty multiplayer before, so it stood out as particularly odd and unfortunate, given the frame-rate stutter is significant enough to let targets escape to safety or see you killed during the general mayhem."
The
Gearnuke blog
has collected similar reports and complaints about the PS4 version of the game.
(Via:
BBC News
)