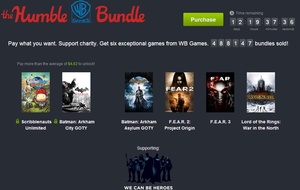 Warner Bros. has started the next Humble Bundle pack, offering a few notable games including Batman for whatever you feel like donating.
If you donate over $1, you get access to
Batman: Arkham Asylum
Game of the Year Edition,
F.E.A.R. 2: Project Origin
and
F.E.A.R.
3 and Lord of the Rings: War in the North.
Paying over $4.63 gets you Scribblenauts Unlimited and the sequel to Arkham Asylum, Batman: Arkham City Game of the Year Edition.
As with all Humble Bundles, you get to choose how your donation goes, split between Humble Bundle, the creator of the games and a charity, in this case
'We Can Be Heroes.'
Check the bundle
here
.