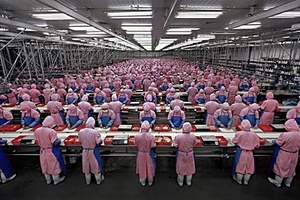 Earlier this week, two labor rights watchdogs accused
Dell
and other company's Chinese-based suppliers of exploiting their factory workers, including some of which are minors.
The Danish nonprofit DanWatch says the factories in China's Guangdong and Jiangsu region force workers to work for up to 74 hours per week, at below the Chinese minimum wage. The workers are also subject to verbal abuse, adds the report.
Additionally, the China Labor Watch (CLW) says the companies are employing underage labor, making the gross abuses even worse.
"When companies compete on supplying computers in the cheapest way possible, and when our public buyers aim for the cheapest wares on the market, a high human cost is paid,"
Eva Hesse Lundström, DanWatch editor,
added
.
"Our research shows that the conditions at Dell's suppliers violate [International Labour Organization] conventions and Chinese labor law as well as Dell's own policy."
Four factories building PC parts for Dell,
Asus
,
HP
,
Samsung
and
Microsoft
were part of the investigation.
Among the abuses, workers living in on-site dorms have one toilet for every 55 workers, and one shower for every 90. All workers are subject to up to 136 hours of overtime per month. Many are young students.