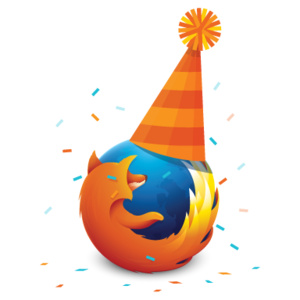 This week, Mozilla's popular Firefox browser turned nine years old.
The browser turned nine today, and the Firefox team says the browser was created to "be an amazingly fun, safe and fast Web browser that embodies the values of our mission to promote openness, innovation and opportunity online."
In order to celebrate,
Mozilla
put together a list of nine contributions they have made to the Web (and Firefox) this year.
The list
:
Firefox in Mobile: Firefox has always made a significant impact on the Web and we've recently grown Firefox to support not just Windows, Mac and Linux, but also Android phones and tablets. As more and more people access the Web from a mobile device than ever before, our Firefox for Android Web browser consistently offers users an amazing browsing experience, receives 4.5 stars in the Google Play Store and has been downloaded millions of times.

Growing the Firefox Family: We also expanded the Firefox family this year with the birth and launch of the first ever Firefox OS smartphones – devices based entirely on open Web technologies. To date, we have launched Firefox OS in nine countries and have thousands of apps in our Firefox Marketplace.

Speedy: Firefox is faster than ever before. We beat last year's Kraken scores by 74%, and we're 88% faster on Octane. Web Apps and games are 25 percent faster due to our JavaScript improvements and a new technology called asm.js. And, Tom's Hardware recently named Firefox "the new speed king" and winner of the Web Browser Grand Prix due to startup times, page load times and reliability.

Social: We've been working on ways to integrate social sites and services directly into Firefox to quickly and easily connect you with your friends and family. Last year, we launched with Facebook as the first Firefox social integration partner. Soon after that we added Cliqz, and Mixi and we are working with more social sites, services and apps to make your browsing experience more social, customizable and personal.

Private: We are proud to be named the Most Trusted Internet Company for Privacy in 2012, according to a study performed by the Ponemon Institute. We also just launched the Lightbeam Firefox Add-on, which brings to light the array of first and third party companies people interact with everyday across the Web in a visual way.

Secure: We shipped Mixed Content Blocker in Firefox to keep you secure, wherever you surf the Web. Firefox includes Click to Play plugins. By allowing you to decide which sites need to use plugins, Firefox will help protect them and keep their browser running smoothly.

The Best Developer Tools: Firefox now boasts a robust set of tools for Web developers for editing and debugging HTML, CSS and JavaScript on the desktop and on mobile. Recent highlights include: the App Manager; Responsive Design View, Network Monitor; Page Inspector; and the JavaScript Debugger.

WebRTC: Firefox enables video calls and file-sharing directly in the browser, all without the need for plugins or third-party software with Web Real Time Communications.

Innovations in Web Gaming: Over the last year, our developers and engineers have been hard at work to make the Web the platform for high end game development, one of the last challenges to show the Web is a real development platform. We developed a supercharged subset of JavaScript called asm.js that enables developers to create high-intensity applications, like games, directly on the Web. The Web Audio API was added to Firefox and completed the Web as an amazing platform for gaming.