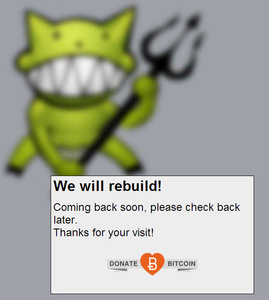 Fifteen months after shutting down, it looks like infamous semi-private
torrent
tracker
Demonoid may be trying to make a comeback.
A notice on the site seems to imply the site is coming back, with the owners of the site asking for Bitcoin donations to help rebuild.
TorrentFreak
confirms the site is being resurrected, although the admin would not give any type of timetable or other specifics.
"I can't give you any specifics at the moment, but yeah, we are planning to bring the site back,"
says the site's owner.
Demonoid was taken down last August after its Ukranian host received a takedown notice from
Interpol
as part of a criminal investigation into the site's owners, who are believed to be in Mexico.