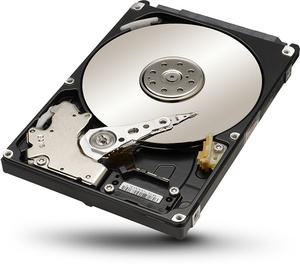 Seagate
has announced their new Samsung-branded Spinpoint M9T, an HDD the company calls the world's thinnest at the 2TB storage point.
The 2.5-inch drive is just 9.5mm thin, and Seagate also offers it in a 1.5TB capacity.
"The M9T combines the highest areal density shipping in a single storage device with an innovative design that fits into mainstream notebook applications. While other 2TB are solutions on the market are 15 mm thick, the vast majority of mobile devices are designed to use a 9.5 mm drive; with the M9T, those devices can now have 2TB of storage, enabling a richer computing experience,"
noted
Dave Frankovich, senior product line manager,
Samsung
HDD.
"Samsung HDD with the new Spinpoint M9T continues to lead the effort in aerial density in a small form factor to supply our channel partners and customers with the highest-capacity and thinnest storage solution in the market,"
added Doug DeHaan, general manager, Samsung HDD division.
"With consumer demand for storage capacity continuing to grow in mobile applications, the M9T answers this demand and is positioned to fulfill capacity needs in virtually any application."
The Spinpoint M9T is available now.