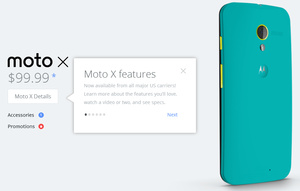 Two months after debuting exclusively for AT&T, the
Motorola
Moto Maker
site
is now available for all major U.S. carriers.
The site allows buyers to customize their Moto X smartphone, including thousands of different color options, accents and combos.

Now available for Verizon, T-Mobile and Sprint, US Cellular customers will have to wait some more time to get the service.

Motorola builds the device in the U.S., so shipping times to U.S. buyers is four days or less from purchase.

The Moto X costs $99 for the base 16GB model with two year contract.