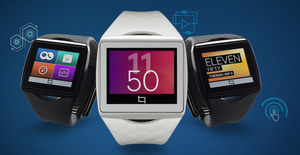 Qualcomm has made their Toq smartwatch available, after announcing the wearable device in September.
Toq devices go on sale directly from the company on December 2nd, selling at $350 directly rivaling the Galaxy Gear.
The Android-based device uses the company's Mirasol low-energy display tech, which has struggled to catch on with other device makers. The tech will make reading the device in direct sunlight easier, and will make battery life significantly better than rival devices.
Qualcomm says the device will last five days per charge, compared to one day for the Galaxy Gear.
Users can connect to all
Android
4.0.3 or higher devices to accept calls, read texts, notifications and reminders, as well as control music playback. Additionally, the device can pull stock quotes, weather and will feature different watch face designs.
For charging, you can "simply set the device down on its case to charge the Toq without the need for plugs or clunky cables" adds the company.