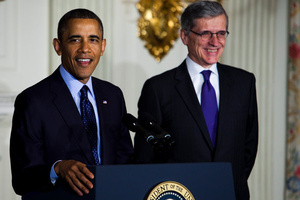 Just one month after being sworn in as FCC chairman, Tom Wheeler has already made a controversial move.
The TV spectrum auction would have opened up the spectrum currently held by broadcast television to wireless carriers, but the auction is said to be one of the more complex in history. Wheeler is the third FCC head since 2012, when the auction was first announced.

"Policy challenges are only part of the picture," Wheeler wrote in his announcement. "We must also get the enabling technology right."

WaPo explains what the auction would entail: "According to the basic framework, TV station operators will be offered money in exchange for relinquishing their rights to the airwaves. The affected stations will then have to decide whether to share a channel with existing operators or exit the industry entirely. Then the FCC will auction off the reclaimed spectrum to wireless carriers, such as AT&T and Verizon, who intend to use it to upgrade their cellular networks."

All four major carriers are expected to bid significantly on the spectrum.