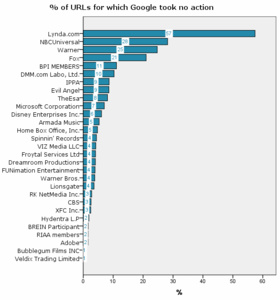 Copyright holders stepped up their efforts to get infringing links taken down, sending 235 million
DMCA
takedown requests to Google so far in 2013.
Google allowed 91 percent of the search engine takedown requests, meaning only 21 million URLs were left untouched. Most of these were illegitimate or just duplicates of previous requests, says
TorrentFreak
.
The number of requests has grown exponentially in recent years. In 2011, Google received just 10 million notices, followed by 50 million in 2012. At the current rate, Google might be hit with 1 billion notices next year.
Looking further into the numbers, the music industry (led by the
BPI
and
RIAA
) sent an astonishing 72.5 million notices, followed by Twentieth Century Fox, Froytal Services (porn industry) and
Microsoft
at 19.3, 19.2 and 10.4 million takedown notices, respectively.
Google rejected 520,000 of the BPI's notices, but the clear winner (or loser) in regards to discarded notices was Lynda.com. The online software training web site submitted 1.18 million URLs and Google took no action on 57 percent of those.