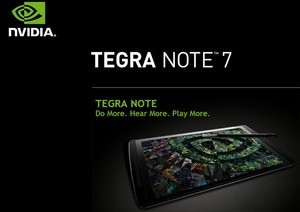 Although demand has been relatively low since launch, Nvidia has rolled out some notable updates for its Tegra Note 7.
The tablet is now up to
Android 4.3
as its base operating system, and the company has added AOHDR to the camera along with new updates for the DirectStylus pen technology.
You can expect the
OTA
update in the next few days if you do own the tablet and it seems that the most notable update is the addition of always-on high dynamic range photos. While the option is seen on nearly all tablets and smartphones now, the Tegra Note has real-time instant processing, removing the lag normally seen by melding three photos (high, low, regular exposure shots).
Left-handed tablet users have seen the DirectStylus pen technology updated, allowing them to use their strong hand and rest their palms on the display without interference. Overall, the software is also now more responsive, has a new notification bar control and more help support.
Finally, Nvidia added an easier way to transfer your internal storage files to the
microSD
card.
The powerful Tegra 4 tablets sell for just $199 but the market is getting crowded.