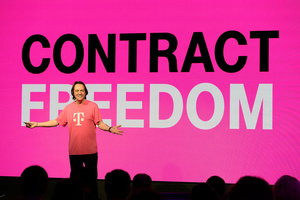 T-Mobile CEO John Legere, infamous for his tirades and pointed attacks on rival carriers (including cursing), got his fill again today during the company's Uncarrier 4.0 event.
The exec began the press conference with tirades against Sprint, Verizon and AT&T: "I give Verizon huge credit for admitting their network is overloaded. But in this industry you should be able to leave if the network doesn't live up," he began. He then mocked Sprint for CEO Dan Hesse's comments to "pardon our dust" as they upgrade their slow networks.
"Sprint is a pile of spectrum waiting to be turned into a capability,"
he said, followed by T-Mobile CTO Neville Ray adding:
"My goodness, 'Pardon our dust?' It's a shitstorm!"
AT&T, the company's only GSM-based rival, got the brunt of the tirade. Both companies have been at each other's throats all year, including commercials attacking one another.
"AT&T is a total source of amusement for me," he said. "They are the ones that take my bullshit. Dumb move. They take the bait. Why don't you have the balls to answer the question: is this targeted at T-Mobile because they are taking a piece out of you?"
Legere
then added
,
"We are either going to take over this whole industry, or these bastards will change and we'll still be wildly successful. I'm going to love watching the peckers scream."
The exec then took a pot shot at AT&T Mobility CEO Ralph De La Vega before concluding.
Comically, Sprint (now owned by Softbank), has been rumored to be raising money to acquire T-Mobile, which Legere did not deny. When asked, the CEO said
"I can tell you that the T-Mobile brand, attitude, and identity is here to stay. What we're doing, in any [acquisition] scenario, will prevail."