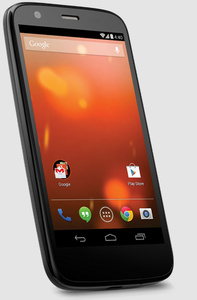 Even though the device was practically stock
Android
to begin with, Google is now selling a Google Play Edition version of the Moto G.
The Play Edition
will offer a fully stock Android 4.4, and remove the three or four
Motorola
apps that were pre-installed with the device (even though those apps were excellent). The current Moto G runs on Android 4.4, as well.
Priced at $179 for the 8GB and $199 for the 16GB model, the prices are exactly the same as the Motorola models. The devices will work on AT&T and T-Mobile and are U.S.-only.
The device has a 4.5-inch
720p
display, a mid-range 1.2GHz quad-core Snapdragon 400, 1GB
RAM
and no
LTE
support.
Read our review of the Moto G here:
Hands-On Review: Does the Motorola Moto G give you your money's worth for $179?