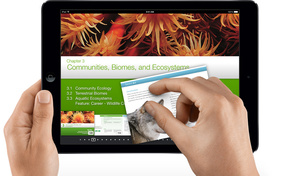 Apple
has announced that its iBooks Textbooks and
iTunes
U Course Manager educational apps have been expanded to new markets including countries in Asia, Europe and Latin America.
Among the new major additions are Brazil, Italy and Japan and iBooks Textbooks is now avilable in 51 countries compared to 70 for iTunes U.
"The incredible content and tools available for iPad provide teachers with new ways to customize learning unlike ever before,"
said
Eddy
Cue
, Apple's senior vice president of Internet Software and Services.
"We can't wait to see how teachers in even more countries will create their new lesson plans with interactive textbooks, apps and rich digital content."
Textbooks was launched in early 2012, allowing for
fullscreen
textbooks featuring interactive animations and other nifty features. There are now 25,000 titles available that "cover 100 percent of U.S. high school core curriculum and the General Certificate of Secondary Education (GCSE) core curriculum in the U.K."
iTunes U, which is used for educators to share resources with their classes (or other audiences), has over 750,000 materials available.