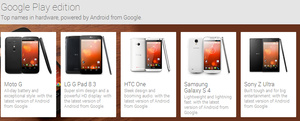 According to blogger Eldar Murtazin, Google is preparing to drop their popular Nexus line starting next year.
Murtazin, who has leaked some big news in the past but in recent times has been mostly full of misinformation, says the devices will be dropped in 2015 and replaced by Play Edition versions of more devices from
Android
OEMs like
Samsung
,
LG
,
HTC
and
Sony
.
Additionally, "Play Edition" itself will be rebranded, to a more consumer-friendly name.
There are currently a handful of Play Edition devices, including the popular HTC One,
Samsung Galaxy S4
and Sony Z Ultra.
Nexus line by Google is over in 2015 ;) Yes - this line will be replaced by Play Edition (current name, it will be rebranded)

-- Eldar Murtazin (@eldarmurtazin) January 27, 2014