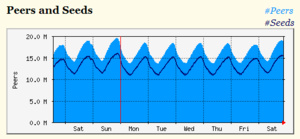 Torrentfreak
has unveiled some interesting
torrent
statistics, pulling data from torrent
tracker
Demonii.
Demonii, while not a household name, is a massive standalone tracker that does not offer torrents but helps people connect to share files through other torrent sites. For example, The Pirate Bay added it to all of its torrents last year, and the tracker has reached 20 million peak peers in the last month.
The tracker opened up its traffic stats to the viewing public, giving an insight into the world of torrents and their users.
Unsurprisingly, the most people connected to the tracker on Sunday afternoon (EST), with numbers generally falling significantly at other times of the week. Also interestingly, Demonii handles up to 3,333 connections per second, a huge figure.