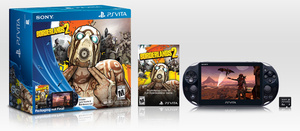 Sony
used their media event yesterday to announce that the slimmer and lighter
PlayStation Vita
will be finally making its way to North America.
The company will sell the device as part of a
Borderlands
2 bundle for $200.
"Many of you have probably seen some of the announcements come from Europe and Japan,"
added John Koller, Sony's head of hardware marketing for PlayStation.
"We're very proud to bring it here [to North America] as well."
Sony released the slim Vita in Japan last October, with a 20 percent slimmer and 15 percent lighter design. The model also has an
HD
five-inch LCD screen (rather than a more expensive OLED), has better battery life, 1GB internal storage and replaces Sony's proprietary charging port with a micro USB. Additionally, the handheld is Wi-Fi-only, removing previous 3G/LTE support.
"We like to iterate. We like to talk about the fact that the systems tend to evolve,"
concluded Koller.
"The Vita evolves in many of the same ways that we've evolved other platforms in the past. This one I think is really important, though. This [slim PS Vita] makes it easier to play. It's a slimmer form function, and it's just easier to hold in your hand. The LCD is brilliant."
As part of the bundle, gamers will get Borderlands 2, an 8GB Vita memory card and six DLC packs.
Big day for Vita news! Catch up on PS.Blog: http://t.co/xGa3gBYr4h Slim Vita coming to NA, Borderlands 2 bundle, God of War Collection, more

-- PlayStation (@PlayStation) February 11, 2014