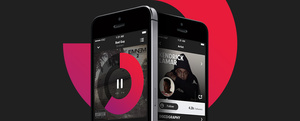 New
streaming
music service Beats Music has opened up its API to the developer world.
The service costs $9.99 per month and gives users access to 20 million tracks on-demand.
"If you're willing to pay $100 a year for music, which in my experience for all the world's music is a tremendous bargain, you should have access to music anywhere you might want it, in your car, house, anywhere,"
Beats Music Chief Executive Ian C. Rogers
added
.
Many other streaming music services have made their APIs available, including
Spotify
, who allows for third-party developers to add applications to the service and to integrate their sites better with the services.
Beats Music had previously opened up its API to select developers, including Sonos and Bop.fm.