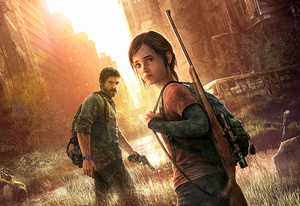 The hit video game 'The Last of Us' will be getting a live-action feature film in the future.
Screen Gems has signed on to distribute the film, and the
Creative
Director for the game, Naughty Dog's own Neil Druckmann, will write the script.
Among the group
helping on the film
are Sam Raimi (The Evil Dead, Spiderman series), Naughty Dog co-presidents Evan Wells and Christophe Balestra and the game's director Bruce Straley.
The story, as per the site's own bio:
"Joel, a ruthless survivor with few moral lines left to cross, lives in one of the last remaining Quarantine Zones. These walled-off, oppressive cities are run by what's left of the military. Despite the strict martial law, Joel operates in the black market of the city, smuggling contraband for the right price.



Joel is asked by a dying friend to look after Ellie, a fourteen-year-old girl with courage beyond her years. What starts out as a simple job to deliver Ellie to another Quarantine Zone, soon transforms into a profound journey that will forever change Joel and Ellie."
"Screen Gems' Brian Dukes and Eric Ling brought this game to my attention insisting we go after it, and when I saw the quality of the storytelling, I knew the audience for this project was far greater than just the gaming community and that Neil Druckmann must write the screenplay,"
Screen Gems president Clint Culpepper said.
"I am thrilled that SCEA's Riley Russell was able to get me in front of Neil and Evan Wells to plead my case. Sam and his team at Ghost House round out the perfect team to help realize Neil's vision."