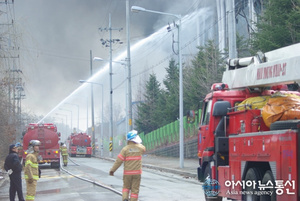 Samsung
has denied that a major fire at a factory in South Korea will lead to less supply of the upcoming Galaxy S5 at launch.
The factory in Anseong
was being used to manufacture PCBs (printed circuit boards) for the new flagship.
Damage has been estimated at nearly $1 billion and it took over 280 firefighters to contain the fire. The fire began Sunday morning local time, and burned through equipment and components. It took about six hours to put the fire out.
Samsung has said the fire will not affect the April 11th launch of the device, and the company uses other PCB factories, as well.
Availability in certain smaller markets could be affected still, but most likely you will not have to worry.