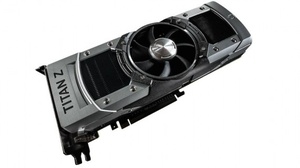 Nvidia has reached new levels of technological superiority with its
Titan
Z
GPU
, but that kind of power comes with a steep price tag.
The card has 5760 cores, two Kepler-based GPUs and 12GB VRAM.
Nvidia says the video card can produce 5K content without issue (forget 4K, that's old) with support for every game and video intensive program on the market on multiple monitors.
"If you're in desperate need of a supercomputer that you can fit under your desk, we have just the card for you,"
CEO Jen-Hsun
said
.
The company also says that
"unlike traditional dual-GPU cards, Titan Z's twin GPUs are tuned to run at the same clock speed, and with dynamic power balancing. So neither GPU creates a performance bottleneck."