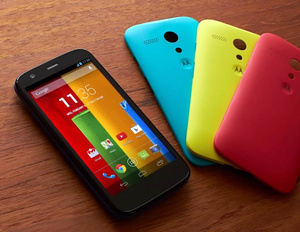 Motorola's Moto G has been a big hit in the UK, turning around Moto UK's fortunes in the process.
The company had close to zero market share in the region headed into 2014, but that share has now jumped to a full 6 percent thanks mainly to the cheap
Android
device.
Sales data from Kantar Worldpanel ComTech shows the share for the three month period ended February 2014.
Motorola
put the G on sale last November for $179. We
reviewed the phone
and found it to give incredible bang for the buck, including a vibrant screen, fast internals a near-stock Android experience.
Notes
Kantar's Dominic Sunnebo:
"Motorola was nowhere in Europe before the Moto G launched in November last year, but the new model has since boosted the manufacturer to 6% of British sales. It highlights the speed at which a quality budget phone can disrupt a market."
The majority of the buyers of the device are males, ages 16-24, on the low-end of the income tiers. Another interesting note was that 48 percent of the Moto G sales were online, meaning consumers were trusting of strong reviews.