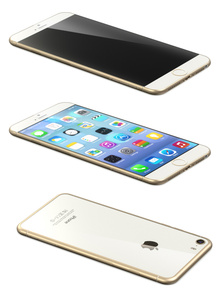 A Weibo user has posted a photo alleging to be the iPhone 6, directly from manufacturer Foxconn.
The caption of the photo said
"These are the pictures of the real iPhone 6 which were taken at Foxconn."
Although there is always the chance that the photos are faked, the images do appear to fit within expectations for the new flagship device.
Using the schematics,
Nowhereelse
put together 3D renders of the device, which is rounder, thinner and larger. The schematics point to two new devices, one at 4.7 inches and one at 5.7 inches, well in the phablet range and huge compared to current model iPhones.