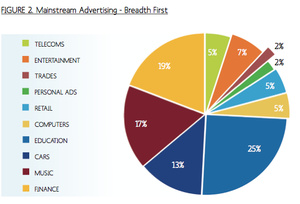 A peer reviewed study from the Federation University in Ballarat has confirmed what nearly everyone knew, that ads placed on piracy sites are high risk and should never be clicked on.
As defined in the study, "high risk" categories are pornography-based (sometimes child), malware or complete scam and fraud sites.
The study had researchers analyzing the "top 500 Google-upheld copyrighted complaints for movies and TV distributed by major Hollywood studios and then analyzing 10 sites from each complaint sampled for all ads displayed," notes
Mumbrella
.
Only one percent of ads on the illicit sites were found to be for mainstream brands such as banks and retailers, with the most often found advertiser being Quibids.com, the legitimate auction/bidding site.
To avoid re-targeting during the study (where a user's cookies and other past history helps bring up targeted ads), the researchers did not store cookies. "
We eyeballed all the ads and classified it as either mainstream or high risk. In terms of methodology every time we took a new page capture we didn't store any cookies. There was nothing in a virtual browser which recorded where we had been eliminated that potential for retargeting by Google etc."
In conclusion, it pays to never click on ads on piracy sites, as a full 46.5 percent were found to have malicious or suspected malicious code, and another 15 percent were used for scams, including premium SMS scams and phishing and investment scams.