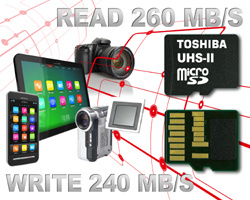 Toshiba
has just unveiled the world's fastest
microSD
cards, cards that the company claims can handle 4K video.
Available initially in 32GB and 64GB versions, the cards are rated at UHS Speed Class 3 (U3) and they are the first to use the new UHS-II interface standard.
Notes Toshiba: UHS-II with U3 means support for
"high-quality 4K video capture at constant minimum write speed of 30MB/S. This means that 4K2K video, live broadcast, and content can be recorded on high-performance cameras."
The new announcement is of great significance to the industry, given that product makers will no longer have to sacrifice valuable space to accommodate bigger cards, like full sized
SD
.
Toshiba claims the 64GB card has a max read speed of 260MB per second and write speed of 240MB/s while the 32GB has 145MB/s and 130MB/s, respectively. Compared to previous cards, the new specs
"represents an 8x write speed improvement and 2.7x read speed improvement when compared to Toshiba's current 32GB MicroSD UHS-1 card."
There was no word on commercial availability or pricing.
Source:
Toshiba