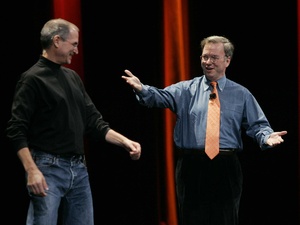 Tech giants
Apple
, Google,
Intel
and Adobe have settled and will pay $324 million over accusations that the companies conspired to keep wages/salaries down in Silicon Valley.
Had the companies not settled, a trial would have begun next month and damages could have potentially been higher.

The class action lawsuit was filed in 2011 by tech employees who accused the companies of conspiring to "refrain from soliciting one another's employees" in order to keep salaries down and avoid bidding wars that would have raised wages.

In the suit, the plaintiffs were seeking $3 billion in damages, and that figure could have ballooned to $9 billion if it was determined that the group violated antitrust law.

The case was based mainly on emails from Steve Jobs, Eric Schmidt and others that revealed the companies would not court employees from rivals. One such example showed that a Google recruiter tried to solicit an Apple employee and former Google CEO Schmidt told Jobs the recruiter would then be fired. Many of the emails were even worse.

A settlement helps the companies avoid an embarrassing jury trial in which the executives would certainly look unsympathetic. The class action is on behalf of 64,000 workers.