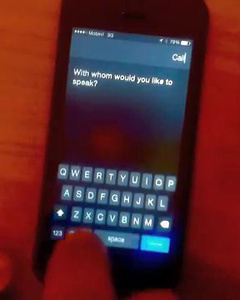 Yet another bug with the iOS lock screen has been revealed, and it affects iOS 7.1.1 too.
Apple's iOS operating system has had a few lock screen bugs in its time. One such bug allowed access to a variety of apps on the device which could allow an attacker to steal private information, while another one that hit iOS 7 would allow non-emergency phone calls by simply hammering the button until it got stuck and crashed the screen.

Those flaws have been fixed, but a new one has surfaced. This one was shown off by Egyptian programmer Sherif Hashim, and it allows you to use Siri to get to the Contacts of an iPhone without unlocking the device.

In a demo video, Hashim tries unsuccessful to access to the iPhone's contacts by commanding Siri, while the handset is locked. However, he then goes on to give Siri a "Call" demand instead, and Siri helpfully asks who he would like to call. From here, Hashim can gain access to the full list of contacts on the handset.

So far, no other feature has been found to be accessible by tricking Siri.

Until it is fixed, the simplest way to avoid this flaw being exploited is to disable Siri access when the phone is locked, which you can do under Settings - Passcode.