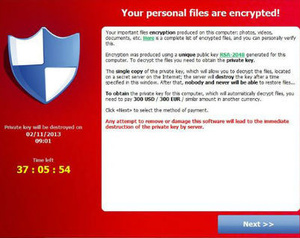 Over the past couple of days, law enforcement has taken further action against the Cryptolocker ransomware.
Europol's European Cyber Crime Centre (EC3) has discovered and shutdown more command & control servers related to the Cryptolocker ransomware in the past couple of days. On Monday, it was announced that a U.S.-led international effort against Cryptolocker and the GOZeuS botnet
had significantly disrupted their operations
, saving potential victims millions.
Cryptolocker is a nasty piece of work that encrypts personal files on a victim's PC and will not decrypt them until a ransom is paid, typically 1 bitcoin which could cost you around $600. The malware will even destroy files if the user does not pay up on time. It is estimated to have cost consumers and businesses over $30 million since last summer.
The ransomware was often delivered to a victim's PC through the Gameover ZeuS botnet, but it also spread through malicious e-mails.
The effect of the GOZeuS and Cryptolocker take-down
According to Danish security firm Heimdal Security, which was named by the FBI as an important collaborator against Cryptolocker, the number of estimated new infections per day of Cryptolocker
has fallen from around 8,000 to close to zero
. Of course, it cannot be absolutely sure of the figures but the infection rate has certainly plummeted.
Law enforcement has warned Internet users that they have a roughly two week window to clean-up GOZeuS and Cryptolocker infections before cybercriminals may be able to wrestle back some control.
You can find instructions to detect and remove GOZeuS right here
.
In future, a debate may arise about the role of Internet Service Providers in disrupting botnets, with one researcher already saying
ISPs need to start quarantining infected computers now
until they are cleaned up.
It is not just Windows PCs that are vulnerable to attacks like this either. Just today, ESET published an analysis of the
first ransomware for Android phones and tablets that encrypts users' personal files
and won't decrypt them unless a ransom fee is paid.
The U.S. has
identified, charged and is pursuing a 30-year old Russian man
it alleges to have been the top administrator of GOZeuS and Cryptolocker.