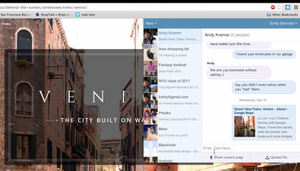 Dropbox
has announced the acquisition of startup Droptalk, a service that was working on tech to allow Chrome browser users to share links privately via an extension.
The Chrome browser extension was just released in very limited beta, with betas for
Android
and
iOS
slated for later in the year.
Droptalk's web sharing tools aside, the company also had a tool to integrate your cloud storage, which would be obviously appealing to Dropbox.
In addition, the service used a messenger-esque interface and had future plans for mobile messaging with cloud storage integration.
Droptalk was less than a year old and was founded by ex-Facebookers and LinkedIn engineers.
Reads the press release:
"We are thrilled to announce that today Droptalk will be joining Dropbox. About a year ago we set out to end the unnecessary friction around communication and collaboration by killing "the work email." The world deserves a better way to do business and an integrated sharing product, which our team rapidly created is the answer."
Source:
Crunch