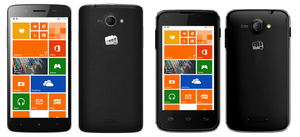 Micromax, the popular Indian
OEM
, has announced its first Windows Phone smartphones.
The operating system has seen a bit of a revival after
Microsoft
made Windows free for any device under 9 inches, including smartphones and tablets.
First, the company unveiled its Canvas Win W092 with Windows Phone 8.1 and a 4"
WVGA
IPS display. Under the hood is a quad-core Snapdragon 200 clocked at 1.2GHz processor, 1GB of
RAM
, 8GB internal storage and 5MP/1.3MP dual-cameras. The device is also dual-SIM capable.
Available next month, the device will sell for Rs 6,500 ($105), in line with cheaper
Nokia
Lumia
options.
The 5-inch IPS display Canvas Win 121 model has the same processor and RAM and internal storage but 8MP/2MP cameras and the larger display. The Win 121 will set you back Rs 9,500 ($157 USD).
Micromax is also said to be working on more Windows Phone devices for release later this year.
Source:
GSMA