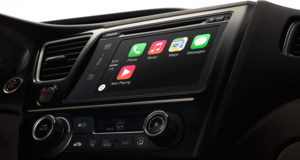 Although there are currently no cars that have Apple's CarPlay support built in, the tech giant has added even more partners to the list.
Apple
has added Mazda and most of the Fiat Chrysler group, as well including: Abarth, Alfa Romeo, Chrysler, Dodge, Fiat, Jeep, and
Ram
. The car manufacturers will all integrate the operating system into their vehicles starting at the beginning of 2015.
Among the company's existing partners are Mercedes-Benz, Volvo, BMW, Ford,
Hyundai
, GM, and Honda, all of which will have at least one compatible vehicle before the end of 2014.
If you are not in the market for a new car, Alpine and
Pioneer
are also adding CarPlay support to their consoles, allowing for existing car owners to add the
dashboard
tech.
iPhone 5
, 5C and 5S users can use CarPlay to control phone calls, use Maps, play their music, and have messages dictated to them. When released, cars will have a native CarPlay interface or you can choose to activate
Siri
from a new voice control button on the steering wheel.
Besides the phone call and message management, one interesting feature is the integration with Apple Maps. Apple says "CarPlay makes driving directions more intuitive by working with Maps to anticipate destinations based on recent trips via contacts, emails or texts, and provides routing instructions, traffic conditions and ETA." Siri will also provide turn-by-turn instructions.
Finally, CarPlay will work with third-party apps like
Spotify
, Beats and iHeartRadio besides the normal
iTunes
Radio and iTunes Music. You can control what you are listening to with touch or using Siri to search for what you want to hear.