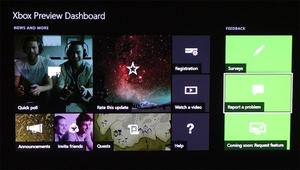 Microsoft
has seemingly put out an endless amount of updates for its Xbox One and Xbox One controller in the past few months and now the company wants to give its gamers a better chance to contribute to the process.
Those in the preview program will now be able to provide feedback on new features they have tested, either through a poll, a quick star-rating and a survey.
Additionally, the quest system that allows previewers to test ongoing tweaks to the console's live-TV setup, will also snap your achievements and will track all of your stats for a yet unknown reason in the future.
Finally, Microsoft has added an option to invite friends to the program, although it it unclear how many gamers will be able to join.
Source:
Engadget